Energy-Efficient Curtain Designs for a Greener Home
by Kristen Phang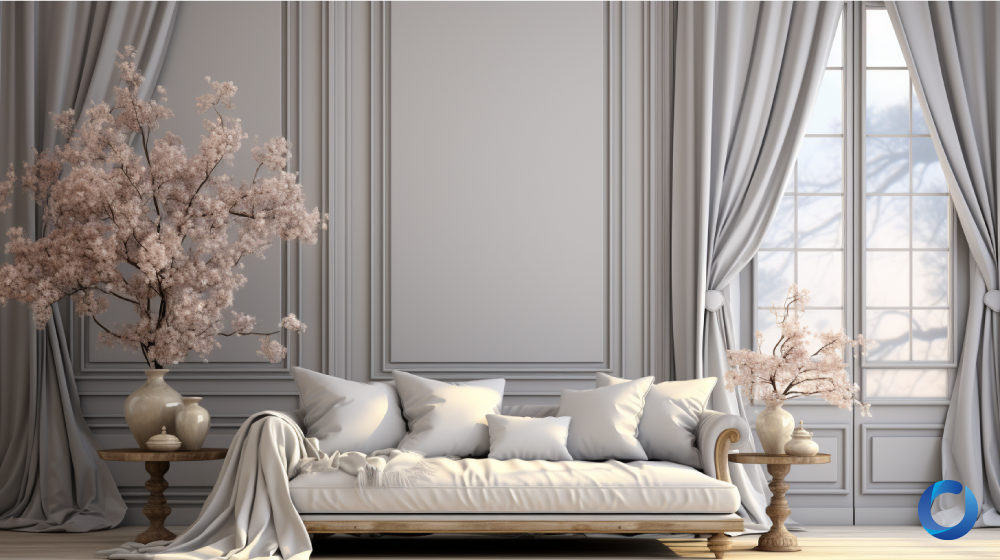 The chic movement has been dominating the mainstream in all areas of our life, most prominently in fashion and pop culture. Chic fashion can be seen in high-end boutiques like Gucci and department stores like H&M. It can also be seen well in pop culture, with iconic movie characters such as Miranda Priestly, Meeryl Streep's character in The Devil Wears Prada, where she dresses in intelligent, professional and simple chic fashion.

Naturally, this movement has also gained hidden prominence in the interior design industry within the last few decades, enhancing and completing our current contemporary, minimalist and casual homes with elegant curtains. However, many people misunderstand the secret to chic interior designs. While it is commonly seen as a feminine, high-end style, any interior design movement can have a chic look by following chic design rules.
This article will recommend elegant curtain designs that can effortlessly transform your home into a chic home interior and impress your guests with inspirations most popular chic styles and professional designer tips.
What are Chic Home Interiors?
The word "chic" comes from the classy French language and it is used to describe something as "stylish and elegant" – a description that perfectly captures the chic movement. 
The chic movement isn't an interior design trend. Instead, it is a set of rules for a whole category of unique and diverse chic home interiors. This movement aims to give homes a freshly updated and modern look, giving an impression of high-end professionalism, a sense of sophistication and a touch of luxury.
Because of this, chic can be practically any interior style. For example, the ever-growing cottage core interior design trend can easily be transformed into the country chic interior with neutral colours, quality curtains, natural elements and organic textures. It can also be applied to modernism, contemporary, industrial, country and many more interior designs.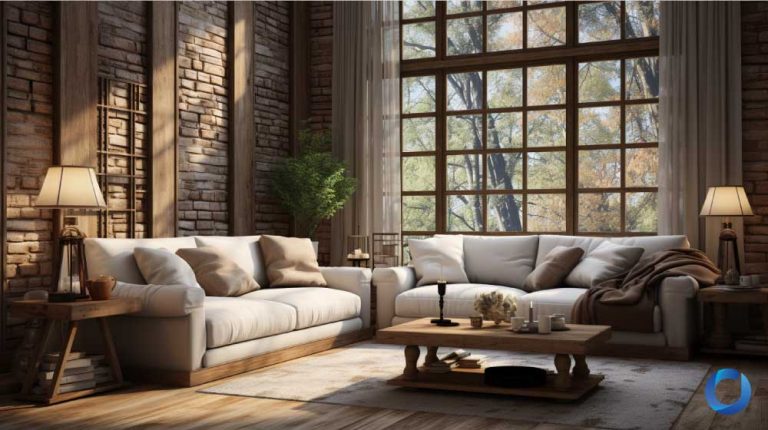 The Rules of Chic Curtains.
Due to the chic movement's many forms, it is hard to define clear guidelines and rules to create a chic interior. However, most designers can agree that chic home interiors need to have a smart balance between function and style. It should make your guests think, "Wow! This is a luxurious/ stylish home!"
To help you get a better understanding of chic style and the curtains you will need for it, here are some distinct aspects of the movement.
1- Stay simple with colours and textures.
Chic is simple yet stunning.
So rather than relying on accessories and details to express your creativity, choose a carefully selected colour palette for your room and use one of your curtains. You can also add accessories to enhance or complete a set of elegant chic curtains. Making innovative design choices like these tells your guests you have the expertise, confidence and creativity to carefully plan your home's design with an assured purpose and freely express yourself.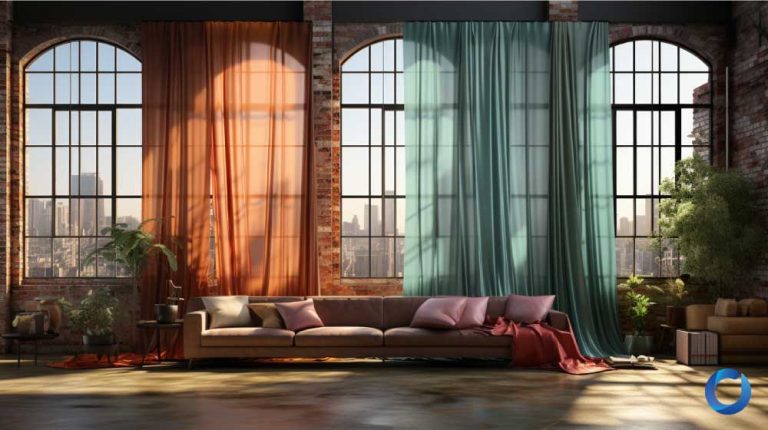 If you want to get more creative and add more depth to your curtain's fabrics, explore different kinds of shapes and textures for a creative and personal touch. Curtain accessories such as tiebacks, curtain rods and finials can also add incredible depth and balance to your curtain design. As Phoebe Nicol, an interior architect known for her stylish, chic designs on Instagram, shares:
"I like to combine clean lines with luxurious materials such as natural stones, raw linen and lustrous silk fringing. A cosy interior evokes layers and layers of texture. When considering furniture and decorative items, I like strong pieces with both character and restraint."
2- Add a level of luxury to earn respect.
While chic rooms can have varying levels of casual or formal tones, every stylish room must give off a sense of luxury or sophistication. A chic room needs to look like it was planned and decorated effortlessly with clean designs. Such complexity earns a sense of respect from visitors, who would appreciate your room's sense of harmony and quality.
This can be achieved easily by investing in high-quality curtain fabrics such as linen, velvet and silk. While maximalist interior designs aim to create a lively interior through fullness, chic designs prioritise high-quality materials over quantity to greatly enhance the aesthetics of a room in subtle, minimal ways.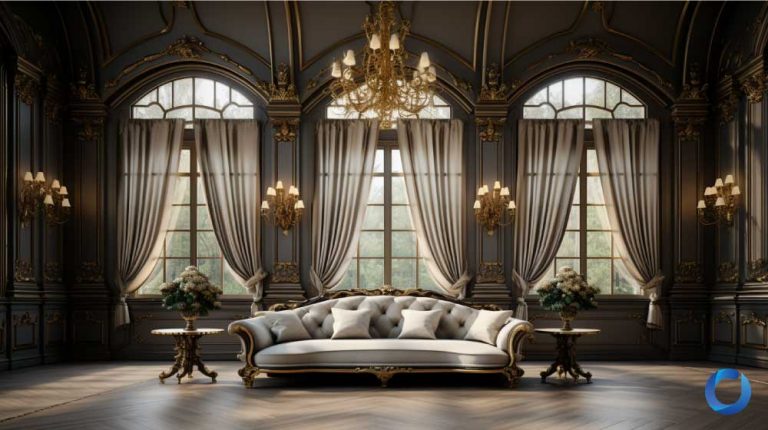 3 – Follow what you love.
The current chic trends look absolutely fantastic! However, they don't understand your personality or taste or are tailored to fit your lifestyle needs and wants. Chic is about enhancing your current home and its style. You don't need to follow the latest chic interior design trends. As Nicol remarks:
"My intention is to create an interior of no particular time. I would hate for someone to look back on a space and know when it was designed."
You are the ultimate designer who knows what is the best home for yourself. If you like rustic chic but want to use a deep emerald green polyester curtain instead of a rustic red textile curtain, go ahead! This is how new styles develop: people divert from the norm to experiment and create something independently.
Elegant Curtains Designs for All Chic Home Interiors
While mainstream chic trends should not define our homes, they are excellent inspirations to help you build your dream home. So, let's go through some trending chic inspirations and find the best set of elegant curtains for each style.
1 – Shabby Chic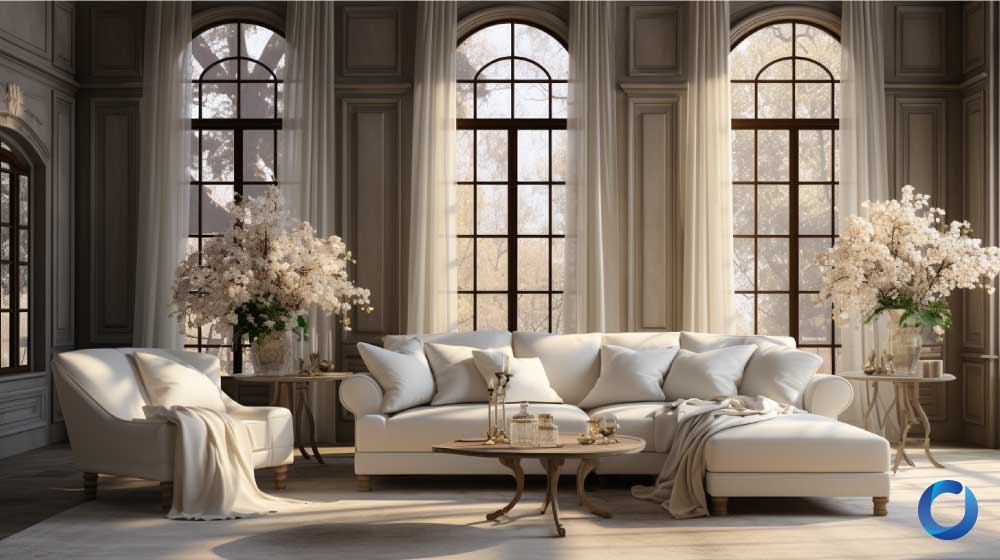 Since its invention by Rachel Ashwell in the 1980s, Shabby chic has become the most popular type of chic today. This feminine style is known for its use of vintage furniture, casual vibe, soft pastels, light floral fabrics and prints, and pretty accessories. Homeowners love this style for its homely comfort, familiarity from its old charm and radiating positivity.
For shabby chic curtains, you will first need to choose a high-quality linen fabric. Linen works exceptionally well as sheer curtains, as the natural materials will give a sense of comfort to your room. At the same time, its lightweight will allow the fabric to sway in the wind, giving the curtains a soft and gentle nature.
For the curtain fabric's colour, most people choose off-white tones like beige, cream or light stormy grey for sheers to add warmth to their rooms. If you want more vibrant colours without overwhelming the gentle nature of shabby chic, create a romantic, warm and elegant vibe reminiscent of Bridgerton or Downton Abbey with soft, pale pastels, including:


Mint,
Peach,
Crayola Yellow,
Wedgewood Blue,
Lavender.
If you want to add patterns to your curtains, choose fabrics with small flowers and intricate details, giving them a delicate look. Curtains with nature-themed textures, such as wood and leaves, also work harmoniously with all other furniture in a shabby chic style. Finally, complete your shabby chic curtains with curtain accessories made from natural materials, like curtain laces, rope tieback, wooden rods or bronze finials. These details balance out the lighter tones and bring more life into your shabby chic interior.

2 – Boho Chic

Boho chic transforms the bohemian style of artsy studios into an updated retro vibe in open spaces. This trendy style has a casual, free nature with its white walls and open spaces, funky textiles and charming wooden furniture and accessories, allowing you to relax and be yourself in a bedroom or a break room full of creative expression.
This interior design lets you go wild with your curtain colour and patterns. Use warm colour palettes like reds, greens, purples and blues to create a fun and exciting environment. The colour of the year 2023, terracotta, is an excellent choice for a warm and welcoming bohemian home. These colours can be further enhanced with jewel tone patterns or colours, giving your home a more luxurious feel.

Elaborate patterns such as textiles and ornamentals and cultural-based patterns such as Persian and Indian designs work incredibly well with the bohemian style. Because of the standardised warm colour palette and the style's love for creative expression, these patterns make the room more unique, add a point of interest and turn your curtains into a piece of feature furniture without being overwhelming.
This chic movement variation elevates contemporary interiors, such as minimalism and Scandinavian designs, into a more high-class environment with a monochrome colour palette, unique shapes and metallic and stone accents. This is the perfect style for living rooms as it allows you to show off and creates the perfect social environment for guests.
Curtains in this chic style use high-quality fabrics such as velvet, linen and satin to create a glamorous and sophisticated look which brings novelty into your home. Colours like grey and black wool increase the luxurious and clean appearance of the rich curtain's beautiful folds and elegant flow. You can also use curtain fabrics with off-white neutral tones, such as cream and beige, for a clean casual appearance. The neutral tones act as a blank canvas that brings visual balance to the metallic accents and unique shapes of a contemporary chic style.
If you want patterned curtains, hang fabrics with small white, silver, gold or rich blue geometric patterns. They add a bit of fun and quirkiness to a contemporary chic room without compromising its classiness. Plaid would be a good alternative for a more casual, welcoming look. For a grander appearance, stone textures like marble and metallic textures like bronze command authority because of their connotations to ancient Greek architecture.
4 – Alpine Chic
Alpine chic, inspired by the Alpine region in Europe, transforms home designs of wooden cabins and ski lodges to create a contemporary home filled with rustic and nature-themed elements. This style brings you closer to Mother Nature while creating a peaceful ambience full of life.
To match the nature-theme approach, choose plain curtains with warm earthy tones such as terracotta, oak and rust to add warmth and comfort to a room. Alternatively, if you want your curtains to stand out, you can choose animal prints like tiger striped curtains or natural textures like wood and sand to make a room look more unique and multi-dimensional.
Urban chic transforms the traditional New York studio and industrial styles into a creative space that utilises many neutral solid tones, open spaces, natural light and stone and metallic elements. This creates a relaxed, casual and comfortable environment with a clean, professional look. Urban chic looks especially great in offices.
In urban chic designs, designers would hang rich, heavy drapery fabrics like velvet or soft materials to create privacy. The heavyweight of velvet also creates clean folds and adds visual weight that balances out the wide-open spaces of urban chic.

As for the curtain's colours, you can use neutral tones to create a sense of calmness or serenity while matching with the simplicity of urban chic. For a pop of colour and added warmth, use earthy colours in your curtain fabrics making your room look livelier and more welcoming. Stone textures like marble or metallic tones or textures like brass can add depth to your curtains while giving it a more industrial look.
The chic movement is an amazingly inclusive way for all homeowners to express their own styles. Rather than defining what's stylish, chic home interiors aim to elevate and complete dream homes that impresses family and friends. Anyone can have a chic home interior by finding the right set of elegant chic curtain designs.
References
Adam. (2022, December 8th). ESSENTIAL FASHION ITEMS FOR MEN TO CREATE A CASUAL CHIC STYLE. Your Average Guy. 
Lamont-Djite, T. (2022). The easiest interior design tips for a chic home. Harper's Bazaar. 
Leonor, D. (2019, February 28th). Essential Guide for Contemporary Chic Style. Lenoor Studio. 
Lyon, S. (2023, March 15th). What Is Shabby Chic Style and How Can It Shine In Your Home?. The Spruce. 
SF Gate Contributor. (2021, March 10th). What Does Chic Mean When It Comes to Decorating & Crafts?.  Week&. 
Shabby Chic Interior Design: 7 Best Tips for Decorating Your Chic Home. (2019, May 18th). Decorilla. 
Shestakova, K. (2022, February 18th). An Introduction to Country Chic Decor. Decoist. 
Team SEEMA. (2023, January). WHAT IS CHIC FASHION, AND HOW DOES IT ACTUALLY WORK?. Seema. 
Urban Chic Interior Design – How to Achieve it at Home. (2020, September 28th). StoryV. 
What is chic style?. (2022, July 21). Lookiero. 
If you are searching for the perfect curtain to express your personality at home, talk to our sales representatives in here.