Hottest curtain designs from Europe
by ABBY LU
Of all the continents in the world, Europe's history is one of the most lengthy and substantial. We have seen the rise and fall of monarchies, the breakout of two world wars, and sustained ideological struggles in many of its countries throughout history. Needless to say, it is a place steeped in traditions – and this is apparent in its culture, architecture, art, and design.
However, that does not imply that there has been a lack of innovation. In fact, while classic design prevailed, modern forms have also emerged out of Europe. Take the German Bauhaus movement, which was conceptualised in the early 20th century, for instance. Till today, it remains one of the most influential elements in modern design, permeating everything from art to typography.
Therefore, if one were to view current design trends in European design, there would always be one that leans heavily towards tradition and another that is starkly modern. Curtain design trends are not the exception. Therefore, we would examine both classic and modern European curtain designs in this article.
Floral prints that are never out of style
If you were to browse through design magazines featuring European villas, apartments, cottages or townhouses, you may come to realise that floral prints still figure largely as the choice of many European homeowners or designers. Alternatively, look up any of the top luxury hotels such as the RM8950-per-night Ritz Paris and you will find floral prints being used in its rooms' decor as well.
This shows that floral curtains, some with a hint of Victorian or Provencal fashion that dates centuries back, have never really been out of style in Europe. Of course, floral curtains do not necessarily require a Downton Abbey setting to shine. Depending on the type of print – that can range from casual to formal, realistic to abstract, and colourful to monochromatic – and curtain design, floral curtains can just as easily grace the windows or doors of a modern home.
If your house features a classic interior scheme, your best bet would be to look up vintage floral patterns on the Internet to find one that you like. Once you have decided on a pattern, you could share them with your interior decorator or a fabric consultant to find a close approximation.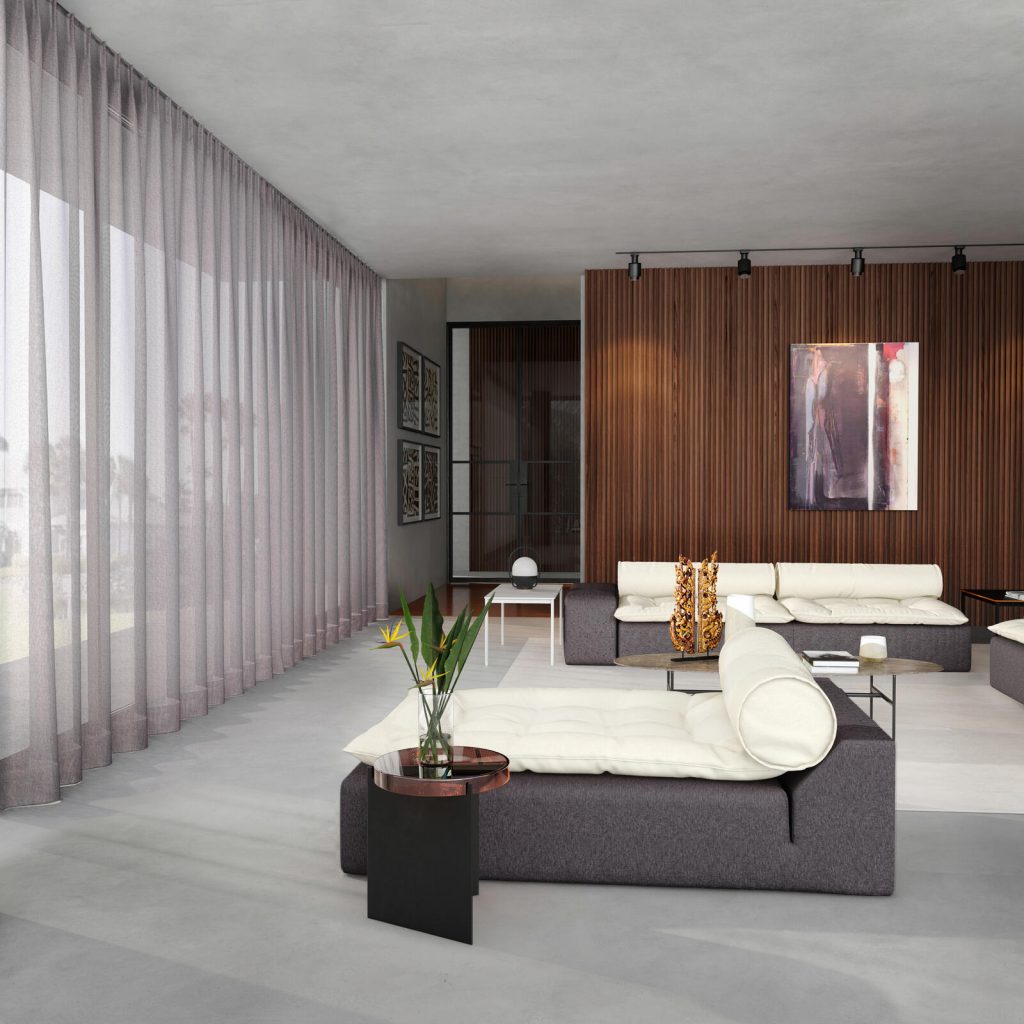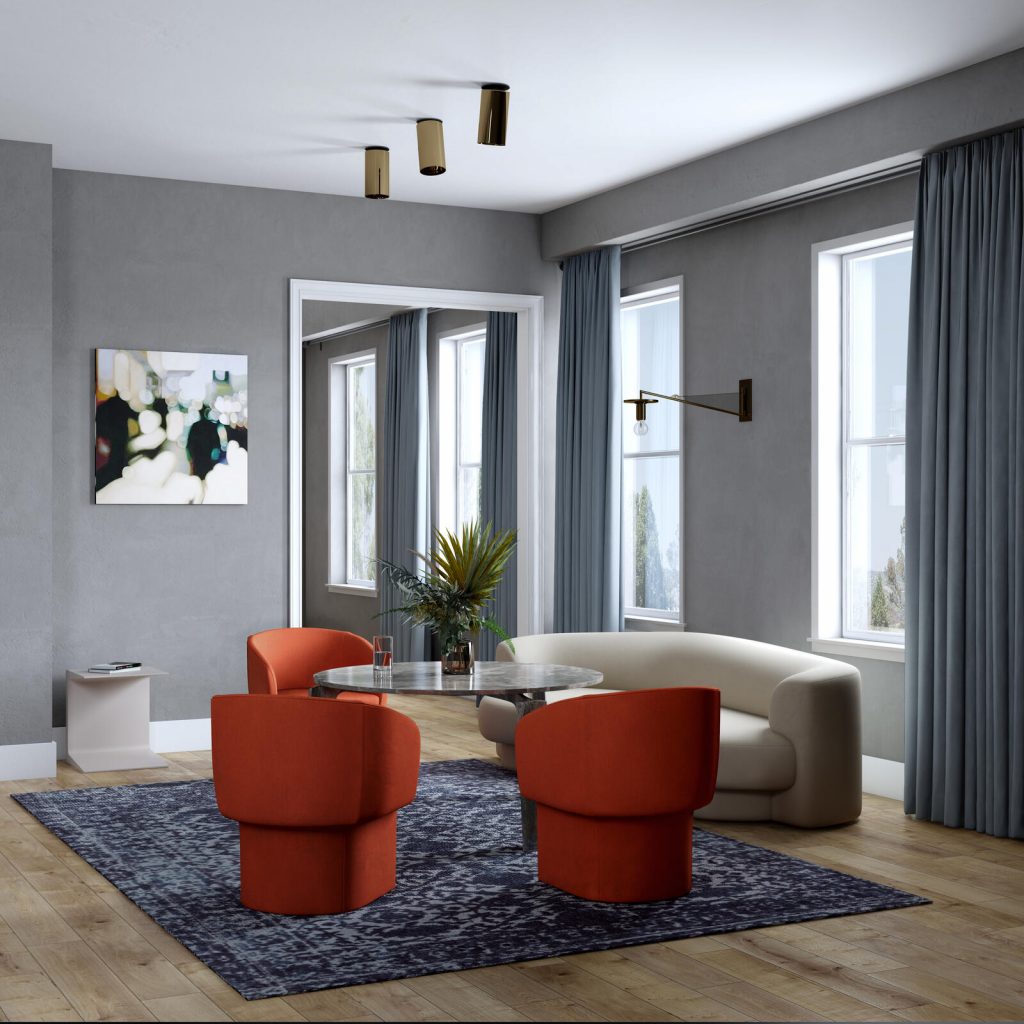 And if you intend to go classic all the way, you will not go wrong with formal and realistic prints on luxurious fabrics such as jacquard, brocade, damask, or silk. These fabrics have the added advantage of being richly textured and/or having a gorgeous sheen, which will elevate the feeling of old-time opulence.
Classic European curtain designs
As for the curtain design, we will start with basics – the heading, which is the top part of the curtain from where it is hung on a track or rod. The type of heading you choose will influence how the curtain drapes, thus, deciding the look of finished curtains.
One of the top picks for an instant throwback to Victorian times is the goblet pleat. This detailed style is made by creating an open tube-like fold that is then pinched into pleats at the bottom, forming a shape resembling a wine glass, hence its name. This is a dramatic and formal curtain design that will instantly draw attention. As such, it is best used in formal areas of the home such as living rooms or dining areas with high ceilings. Goblet pleat curtains can also be used to add flair to alcoves.
Another elegant heading that will not go wrong is the pinch pleat, which is made by drawing the fabric into two to five pleats that are sewn together to create a tightly gathered curtain at the top. This design creates a full and luxurious drape that serves well in accentuating rich fabrics or bold patterns. Buttons can be added to the base of the pleats for extra charm.
A pinch pleat, though decorative, is less pronounced than the goblet pleat and this makes it well suited for most rooms or areas of the home such as the bedroom, study, or living rooms. It is really up to you to decide how many pleats to go for based on your budget and style but a three-pleat pinch usually strikes the perfect balance of sumptuousness and form.
Conceal fixtures the traditional way
Now that we have covered two perfect headings to recreate classic sophistication, it is time to introduce more ways to add more glitz and drama to your curtains. First, let's discuss pelmets and valances.
Pelmets are a 15th century European invention during the Renaissance era. It is an architectural framework that is installed at the top of the window to conceal curtain fixtures. Pelmets can be made of fabric over a foam-padded wood frame – upholstered, in other words – to create a stiff box-like structure that can be shaped, lined, or decorated to match the interior. It also provides insulation against heat or cold.
There is a perception that pelmets look outdated but that is not necessarily the case. It is highly customisable, which means you can dictate the shape, width, length, and design of the pelmet. If you would like a slightly more modern variant, you could opt for streamlined and shorter pelmets with less adornments.
For instance, you could design a pelmet using the same fabric as your curtains to produce a clean and simple look. One drawback of using pelmets, however, is that the framework itself may be costly and it may not be easily replaceable should you decide to redecorate. Plus, due to its wooden structure, it has to be dry cleaned in order to prevent the wood or cardboard from getting wet.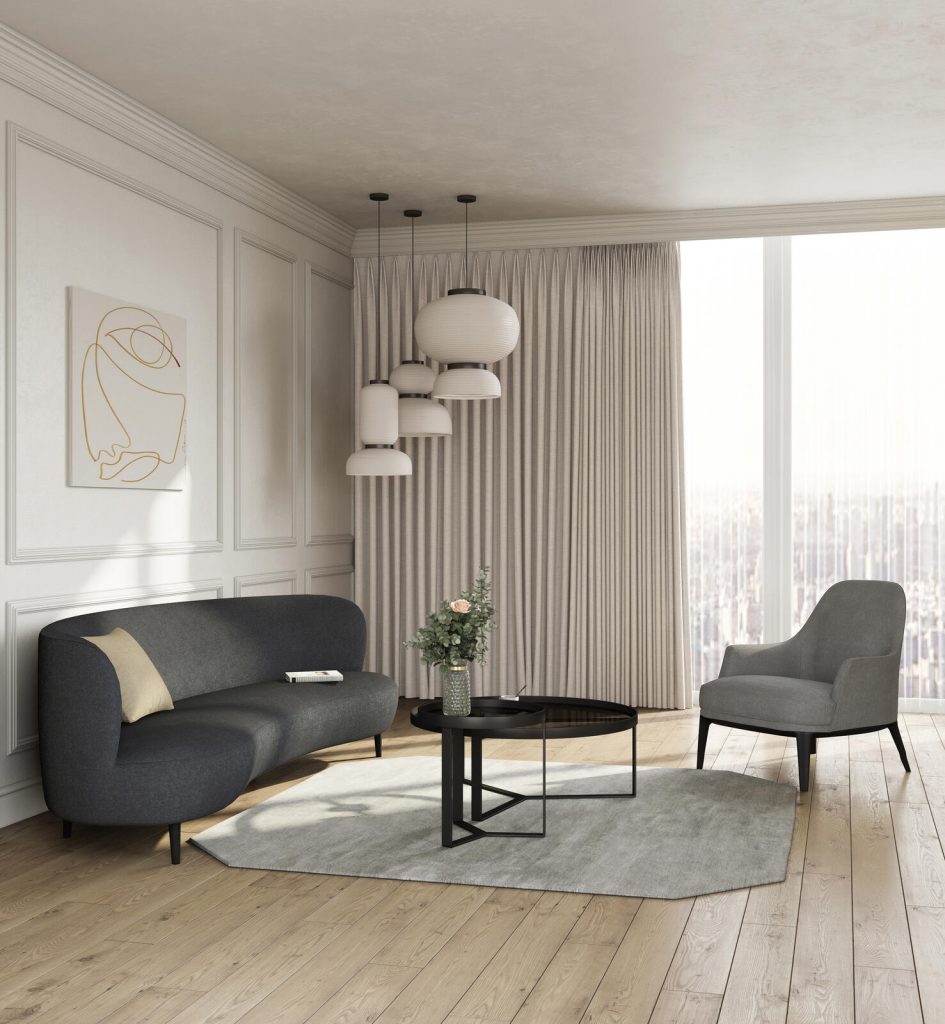 Similarly, a valance is also used for the same reason (to camouflage tracks, poles, or other fixtures). It differs, however, in that it is "soft" – being made out of fabric – and it is usually hung like a curtain from a rod or a track. While a pelmet can be limited in form, valances can be designed in various ways ranging from a simple piece of short curtain to elaborate scallops or pleats.
Swag valances are among the most stylish and elegant of valances. The simplest of swag valances are made by draping pieces of fabric over a rod to create a scallop- or scarf-like pattern with tails that hang softly on both sides of the window. Alternatively, swag valances can also be tied on to medallions – decorative knobs that are fixed above the window or door frame that are also known as horns.
Swag valances can look very romantic and help soften the look of the entire room. In European styles, they are typically sewn two ways: pleated or shirred. Pleated swag valances are the more traditional of the two and offer deep, pronounced folds. This makes it a welcome addition to formal areas of the home with large windows or doors. Shirred swag valances, on the other hand, feature smaller pleats and may look better with smaller windows or in a cottage setting.
Other ways that swag valances can be used include hanging it over the headboard as a decorative element. This creates an ultra luxe visual interest in the bedroom. And if you have a canopy bed, swag valances can be draped over the frames to create a soft, billowy look.
The ultimate finishing touch
And now, for the final element to complete the classic European look: Curtain trims to add that dash of class. While contemporary interior styles eschew most forms of ornamentation, the same cannot be said of the classic, traditional styles that have been introduced in this article. Therefore, while it is not strictly necessary, curtain trims would definitely add the crucial finishing touch to create detail, texture, and visual interest.
Trims are often used along the leading edge of curtains and, at times, along the hem. A variety of trims can be used to complete the curtain styles, pelmets, and valances mentioned above. A beaded trim or tassel fringe, for instance, are particularly suited for swag valances. Fringe trims or rouche can add texture to a pelmet, curtain tieback, or the base of a curtain.
When in doubt about what trims would look best with your curtains, however, it would be good to consult your interior decorator or curtain consultant. While trims can provide timeless allure to your home and interiors, it would not do to pile on too much of it.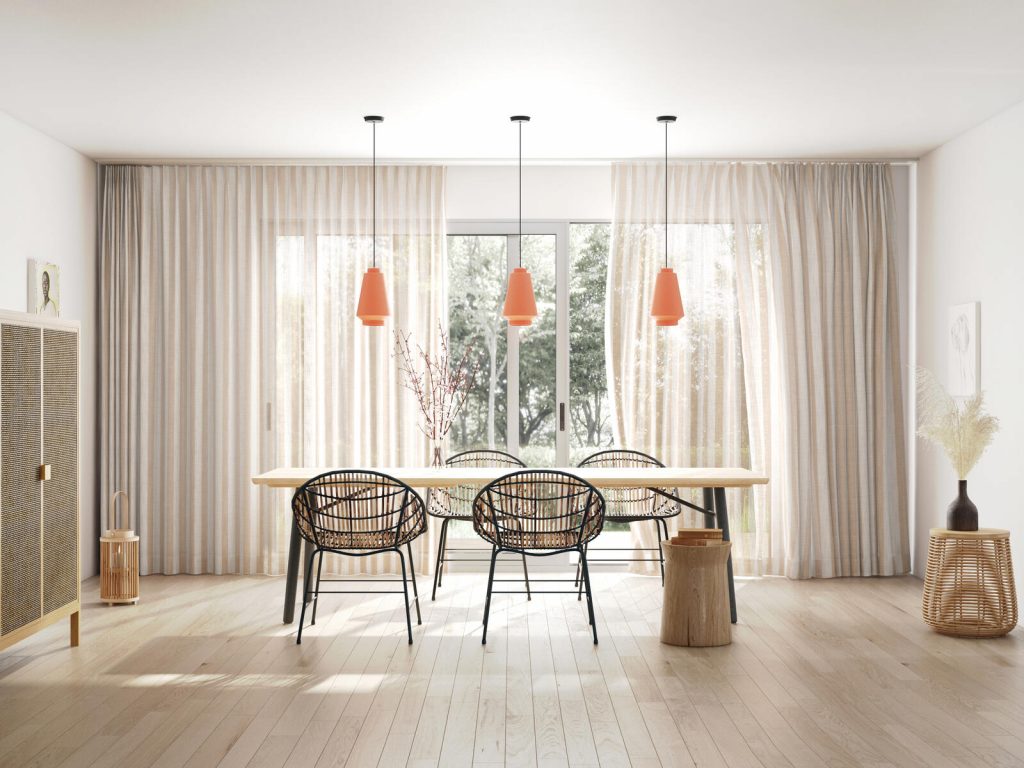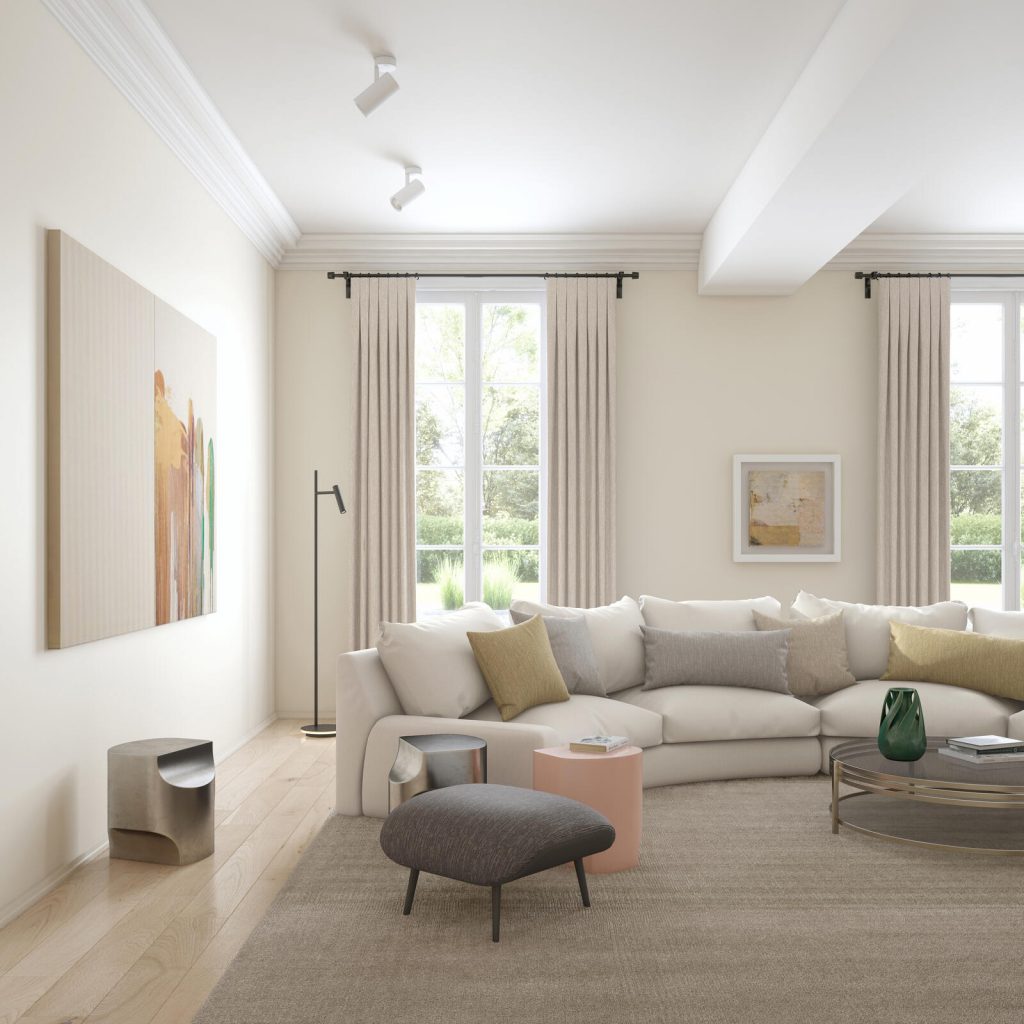 The curtains from modern European homes
One of the perspectives that is predominantly European is the emphasis on quality and curtains are no exception. While some modern homes feature minimalist styles such as wave curtains (created by a type of heading that gathers the material in a soft rippling fold at the top), the fabrics of choice are still luxurious, time-tested varieties such as silk, linen, and velvet. Though they are, undoubtedly, harder to care for – most will require dry cleaning and are not exactly child- or pet-friendly – the prevalent use of delicate fabrics indicate that it is a price that most are willing to pay.
Another lasting trend from Europe is the use of floral prints. Modern iterations of floral curtains, however, seem to favour abstract or botanical designs. Aside from curtains, floral prints are also used for upholstery and other types of window coverings such as Roman blinds. The effect is a cheerful and organic vibe that speaks of joie de vivre.
And speaking of joy, Europeans have no qualms about using loud and bright colours as an expression of maximalism, which – as opposed to minimalism – is about rich and layered textures, bold gestures, and generous displays of accessories. The playfulness that is inherent in this trending movement can be expressed by curtains in highly saturated colours or striking patterns.
Maximalist style can be something that is difficult to balance but if it is an aesthetic that appeals to you, you could try to use curtains in different and/or contrasting colours within the same room. Layering curtains with different textures or patterns could also contribute to the spirit of maximalism. To pull it off and avoid looking like an old lady who is hoarding things from generations past, try using the same colour or colour family for everything in the room.
Europe is a country that is characterised by having the old and new together in different combinations that provide a myriad of results. Some are good. And some may be bad. But the spirit of innovation that is respectful of history and tradition is one that is truly well and alive in the continent. So while this article's purpose is to introduce you to the hottest curtain designs from Europe, it will not be enough to simply tell you what is being done without first telling you how it was done.
This mingling of innovation and tradition is also a spirit that is held at Acacia Fabrics. If you would like to learn more about how you could transplant this very essence to your own home, visit the website or their showroom at Ampang, Kuala Lumpur.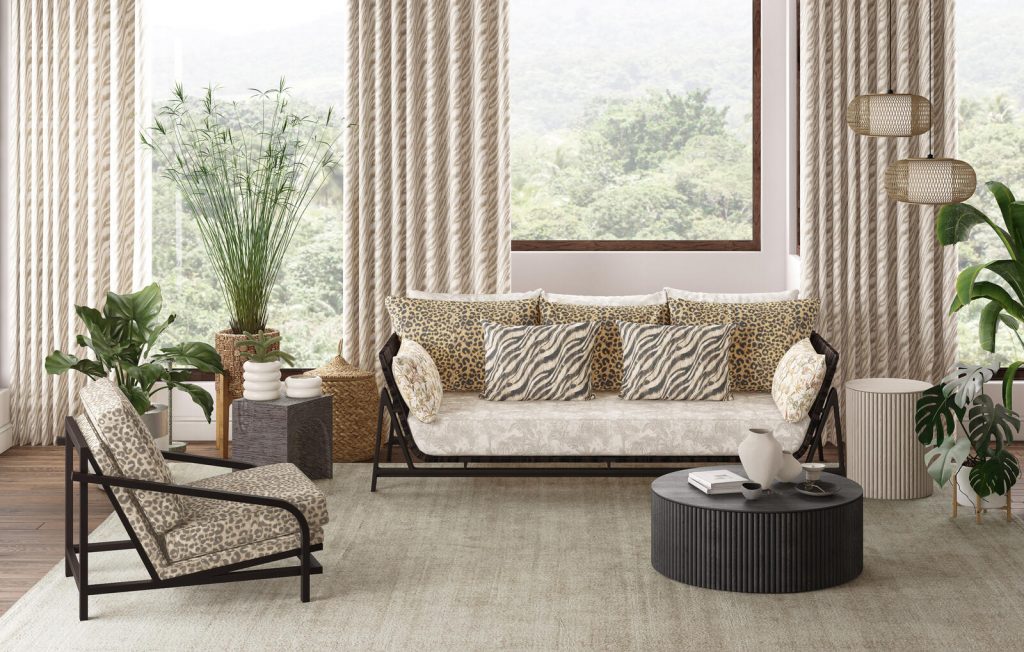 References:
Fixsen, A. & Choi, S. (2022, January 10). 55 Curtain Designs to Inspire Your Next Home Makeover. Elle Decor. https://www.elledecor.com/design-decorate/room-ideas/g185/window-dressing-61293/
Brouwer, L. (2017, October 20). Stunning Curtain Styles and Other Window Treatments. Yes Please. http://yespleaseblog.co/different-curtain-styles/
Editors. (2021, October 5). 32 Brilliant Window Treatment Ideas for Infusing Luxe Style into Every Room. Veranda. https://www.veranda.com/home-decorators/g30718498/window-treatments-ideas/
Ullman, M. (2022, May 27). Guide to Common Fabric Patterns and Types. The Spruce. https://www.thespruce.com/guide-to-common-fabric-patterns-and-types-3862921
Unknown. (2021). Pinch Pleat. Knowledge Bank. https://knowledgebank.materialbank.com/terms/pinch-pleat/
Bartosch, K. S. (2021, May 5). Differences Between Valances, Swags, and Cornices. The Spruce. https://www.thespruce.com/differences-between-valances-swags-and-cornices-350476
Neubauer, L. (2007). The Complete Photo Guide to Window Treatments: DIY Draperies, Curtains, Valances, Swags, and Shades. Creative Publishing international.
Yuko, E. (2020, June 11). What happened when the office came home. Bloomberg Citylab. https://www.bloomberg.com/news/articles/2020-06-11/the-rise-fall-and-rise-of-the-home-office
Desmond, M. (2021, February 24). 5 tips for better home office lighting. The Spruce. https://www.thespruce.com/tips-for-better-home-office-lighting-1812436
Bailey, J. (2021, March 12). Trimmings Are Back On Trend – And These Are The Latest Collections. Homes & Gardens. https://www.homesandgardens.com/news/trimmings-trend
Carponen, C. (2020, January 1). The Allure of Timeless Trimmings. Mansion Global. https://www.mansionglobal.com/articles/the-allure-of-timeless-trimmings-210710
Taylor, E. (2021, August 12). What Does It Mean to Be Maximalist? Interior Designers Explain. Vogue. https://www.vogue.com/article/what-does-it-mean-to-be-maximalist-interior-designers-explain
If you are searching for the perfect curtain to express your personality at home, talk to our sales representatives in here.