Eyelet Curtains Guide for Fabric Lovers
Eyelet Curtains and Their Advantages
Eyelet curtains (or also known as grommet or ring-top curtains) are placed directly onto a curtain pole without additional curtain rings or curtain tracks. As opposed to usual window treatments, which use a header tape, the metal rings on the eyelet curtain headings give you even and soft pleats. Starting from the metal rings and extending to the very last inch of the fabric, a wavy effect that is pleasing to the eye is created. The structure of eyelet curtains, which hang perfectly from top to bottom, helps to elongate your room and make it seem more spacious. Its sleek appearance always contributes to a hotel-like and corporate feel to the space. Many homeowners and office spaces have used these eyelet pleats to create a simple and refined ambience.
Many people also prefer using eyelet curtains as part of decoration items because they require little fabric to achieve their structure. Compared to folded curtains which require at least twice the amount of fabric as the width of the window, eyelet curtains require fewer fabrics which are normally one and a half size of your window. This makes eyelet curtains even more appealing since they are very cost-effective for both fabric manufacturers and consumers.
Additionally, it is very simple and straightforward to hang eyelet curtains – you just need to place it through a rod, and it's ready to be used as your window treatments. Want that extra sunshine from outside? Simply slide your eyelet curtains to the side to let more light into the room. Is it too hot, and do you want to filter the light? Simply slide it close to prevent more light and heat from coming in.
Eyelet curtains are popular choices for modern-style connoisseurs because the material adds depth while the clean lines complement minimalist home tastes. There are limitless design options: you can either choose sheer, bold-coloured, plain-coloured or blackout eyelet curtains. Styles with a trace of glitter are ideal for adding a dash of grandeur to your space, whereas printed and patterned designs add character. Eyelet curtains are suitable for many areas in any contemporary home, but they are especially popular in living rooms, dining rooms, and bedrooms.
Eyelet curtains are typically used to achieve a clean and neat aesthetic regardless of where they're placed. Therefore, people often choose neutral and plain colours when they decide to use eyelet curtains as part of their room interior. Eyelet curtains have a peaceful and relaxing impression on curtain fabric; therefore, it's crucial to select the right colours that will contribute to its magical effect. You may choose from textured materials in pastel colours such as grey, beige, and white. However, if you want a darker theme and prefer to purchase blackout curtains, eyelet curtains can also be matched with darker colours like black, navy blue, and brown. Just keep in mind that choosing anything overly intricate and with a lot of motifs in the fabric can result in your curtains appearing strange. Now, who would want anything like that?
Do you personally think that neutral colours are bland? Well, you can consider using various colour combinations when selecting your eyelet curtains. If one eyelet curtain does not fit the dimensions of your window, you sometimes need two or more curtains. Therefore, you can try one colour on each side and add a different colour curtain on the centre. For example, you may choose two navy blue eyelet curtains on the left and right side, with a beige eyelet curtain in the middle.  Simply use your creativity, but keep your colours coordinated to make sure your eyelet curtains still provide that clean and neat aesthetic. Also, keep in mind that materials might become discoloured with exposure to sunlight over time. Bright colours should be avoided if your space receives more sunlight since these colours appear to fade faster. Ideally, the colour of your eyelet curtains should complement the rest of the interior. For a polished look, you may choose curtains that match the colour of your ceilings. 
Decorate the room with a curtain pattern that complements the décor
The curtains inside a room play a significant role in the overall visual impact of the room, so it's important to take the existing interior style into consideration. For instance, it is best to use light, clear shades in airy, modern rooms. In contrast, the formal areas need to be accentuated with layered panels or heavy materials. Consider the current impression of the room and how you want to incorporate the curtains into it.  Suppose, for instance, the decoration in a bedroom is already cluttered. Consider introducing a trademark wall design with a basic background color. You could then use it as a pattern in a monochromatic curtain. Curtains should still complement the aesthetic of the room. If privacy is the main priority for you, make sure the drapes cover the entire width of the windows and that nothing can be visible through them when closed.
Fabric is a key consideration when choosing eyelet curtains since it determines how well your curtains will age and hold up over time. They will not flow beautifully if the materials are too thick or too delicate. Thus, it is recommended to buy a large sample, at least 2 yards in length, because a little amount will not capture the true draping of the material. The best types of fabrics for eyelet curtains are cotton, linen, faux silk, and crushed velvet since they seem to drape flawlessly. Faux silk tends to be the most durable since it does not fade as quickly as natural silk in a brightly lit area. Some materials may be able to keep the cold at bay, such as suede, silk, tapestry, or corduroy. These types of fabrics are thick which aid in trapping sunlight and retaining heat. Note that just about any material may be interlined with a bump into a thick, insulation material. Interlining is a piece of fabric inserted between the lining and the face material, which helps to prolong the lifespan of the fabric.
Avoid huge, heavy drapes in tiny rooms since they will make the rooms feel cluttered. Rooms with large, open spaces look wonderful with elegant, full-length panels. Consider the flexibility of each space to ensure that the curtains in that room seem appropriate. Do not apply the same design and colour palette in every area; instead, make each place unique and individually tailored. For example, avoid using similar colours for your bedrooms and kitchens. Kitchens typically require more sunlight than bedrooms, and the fabric should be one that can be washed on a regular basis. On the other hand, you can use curtains with less attention to light and durability in your bedrooms.
Additionally, you must remember to measure your window size before purchasing your eyelet curtain materials. If you want greater coverage and a more informal style for your space, measure 2-4cm from the top of your rod, down to the floor, or wherever you want your eyelet curtains to hang completely. When you've finished measuring the height of your curtains, double-check the width of your windows. Note that the curtain should be one and a half times the width of your window. The larger the width, the fuller the appearance of your eyelet curtains. If you have a tiny space, always install the panel rods lower to the ceilings, to make the room appears bigger than it really is.
As with any other curtain type, a typical eyelet curtain is available in different lengths. Will you open and close your drapes frequently? Then hover or kiss-length eyelet curtain is a perfect choice, as this type has a brim that only slightly "kisses" or touches the floor.  Do you prefer your room to appear warmer and cosier? You can opt for eyelet curtains that "puddle" or rather accumulate slightly on the floor, known as minimal-puddle eyelet curtains. Does the space have less traffic, and regular floor cleaning is not a concern for you? A moderate puddle curtain with a length of 3 to 6 inches from the bottom of the floor is most suitable. Do you want to go for a formal look and you don't have to open and close the curtains regularly? You can select eyelet curtains with opulent puddle – with a huge amount of materials accumulated on the floor.
If you use eyelet curtains, you'll note that the hardware such as the panel rod, is readily visible. A rod adds a wonderful visual appeal to a room. However, you must make sure that the location of the rod is appropriate for your window frame, as it can make the appearance of the eyelet curtains appear odd if the rod is placed too high or too low. Curtains must often be set 4-6 inches above the base of your windows to achieve a stunning effect. Apart from that, ensure that the curtain rod you purchase fits through the rings.  The majority of the rods should be small enough to accomplish this, but having exact measurements will prevent your panels from being damaged while the curtains are hanging. Alongside curtains and rods, we should not forget about the wonderful curtain accessories. The tiebacks, rings, hoops, and lift kits add a whole new level of appeal to the window frames.
If you consider cleaning your eyelet curtains, they will look nicer and last longer. When you clean your eyelet curtains, you can also help to remove any bacteria and lilt that may have accumulated and may be harmful to the people living in your home, especially those who are vulnerable to allergies. Below are some incredibly easy procedures which will result in dazzling and vibrant curtains.
First and foremost, it is not necessary to clean your eyelet curtains regularly; however, it is preferable to clean them at least once every six months. Choose curtains made from cotton or synthetic fibre materials if you intend to clean your curtains more regularly.
You must get rid of the excess dirt on the fabrics using a vacuum brush before removing the curtains from the hooks. The process of detaching the eyelet curtains from the wall hangers they have been attached to, should be done with utmost care to avoid damaging the material. You can then shake your drapes to remove any additional dirt. You can now wash them separately from other clothes in the washing machine. After washing the eyelet curtains, avoid placing them in the drier as this might cause the material to shrink. When they are halfway dried, iron them flat to minimise the appearance of water stains.
Apart from that, you may also fill your bathtub with a mixture of water and some detergent, then soak your eyelet curtains for several minutes and hand wash them. Refrain from vigorous rubbing of the material to prevent any form of damage. If you are not confident cleaning your eyelet curtains, you may take them to a dry cleaner to guarantee that they are cleaned thoroughly.
When decorating the interior, we usually leave the decision to purchase curtains until the very last. However, nobody really considers purchasing a curtain a straightforward task. Your curtains are what make or break your interior. Finally, we hope that this article will help you to make the best decision when buying eyelet curtains.
If you are searching for the perfect curtain to express your personality at home, talk to our sales representatives in here.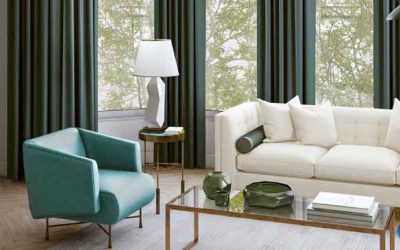 by Wana Che UjangWindow treatments are often overlooked when it comes to decorating your space. However, they indeed serve a functional purpose, such as effectively filtering or blocking light and safeguarding your privacy by blocking people's eyes out of your...