Exploring the Most Popular Curtain Designs for Home Offices
In early 2020, when COVID-19 was declared as a global pandemic by the World Health Organisation, companies were scrambling to implement work-from-home initiatives. Now, two years on, working from home has not ceased. In fact, it is a day-to-day or occasional reality for a lot of people who are obligated to stay at home due to policies enacted by the government or their workplace.
Therefore, it is no surprise that many people have taken to setting up home offices. It helps to demarcate the space, giving one a sense of separation from the home, which – as we all know – are full of distractions. Apart from that, it doesn't hurt to have a smart and professional-looking backdrop for the stream of video calls you are bound to receive.
There are a lot of ways to set up a home office but most guides will emphasise one thing: Good lighting. When lit up the right way, your home office can be a place of bustling productivity. If not, however, poor lighting may cause headaches, strain your eyes, dampen your mood, and reduce your energy, leading to an overall reduction in efficiency.
There are two primary things to consider when it comes to lighting. One source is artificial lighting that comes from the lamps and lights that you place in and around the space. Another source, and a more important one at that, is natural lighting. Unless you are working odd hours, the latter will play a primary role in ensuring that your home office is well and adequately lit.
And to ensure that you have just the right amount of natural lighting – not overly bright or dull – your choice of window coverings will play a huge role in modulating the sunlight that streams in from outside. In Malaysia, we have to be prepared for possibilities ranging from an extremely bright and sunny day to near darkness on days when thunderstorms are upon us.
In this guide, we will go through a few window covering options that are suited for various kinds of home office setups. It will give you an idea of how to select the best materials and designs for your personal needs and style.
The professional home office
If your aim is to make your home office look as much like a workplace as possible, you may want to skip curtains altogether and consider blinds and shades instead. Although blinds and shades are often used interchangeably to refer to one or the other, these two are different window treatments.
Blinds are made of hard materials such as wood, bamboo, glass, or aluminium, which form louvres – an arrangement of parallel, horizontal slats. These slats are adjustable; they can be slanted at various angles to offer differing levels of privacy and lighting. This feature allows us to cool the house during hot days by allowing air to flow through its open slats without forsaking too much privacy. They can also be lowered or drawn up across the height of a window using a manual pull cord. Venetian blinds are the most popular iteration of this window treatment style.
Due to its versatile nature, blinds can be an excellent choice for your home office. In addition, blinds also exude a clean and traditional vibe. Venetian blinds are, after all, a style that was popularised for use in the office during the late 19th century. So, if you are working in a conservative industry or corporation, you may want to match the company's ethos with a similarly strait-laced decoration scheme.
To create this classy, old-school look, blinds made of natural materials such as wood should work best. Vinyl or aluminium blinds bend or break easily and should be avoided. As for the type of wood and its colour, it is a matter of preference as shades of brown are neutral colours that can go with just about anything. However, if you are unsure, it will be best to consult with an interior decorator or a curtain consultant.po
The other important thing to note is that Venetian blinds work best with smaller windows. And there are some drawbacks to using Venetian blinds:
Firstly, dust can settle on the slats and the blinds will have to be cleaned regularly. If you have pets or live someplace dusty, you need to be prepared to wipe them down often. If someone in the family has allergies, it would be best to select something else that can be made with hypoallergenic fabric or does not accumulate as much dust by design.
 Secondly, Venetian blinds do not offer much customisation or variations apart from the selection of its base material. Therefore, if you are looking for window coverings that have more character or colour, this is not the style for you
Blinds are often referred to as shades and vice versa. But the tip on how to differentiate between the two is that shades are made of soft materials, i.e., varying types of fabrics. For instance, Roman blinds and roller blinds are both, technically, shades. These two styles are very popular and could definitely find a place in your home office.
Roller blinds are made of solid sheets of stiff fabric that lay flat across your windows. They can also be rolled up partway or completely for days when you feel like having a view or extra lighting in the room. It offers an extremely clean and streamlined appearance, which is why roller blinds remain a window treatment of choice in modern interior schemes.
It is also a very practical choice. Apart from being able to choose the material for your roller blinds – which offers you a number of alternatives in terms of colour and fabric type – you could also opt to line the blinds with a blackout textile. This could be an important consideration if you have west-facing windows in your home office as they will be taking the brunt of late afternoon and evening sunlight. Blackout textile would not only serve to block harsh sunlight when necessary but could also act as an insulation against heat and noise.
The other advantage of using roller blinds lies in its easy operation and the fact that it is relatively low maintenance. For one, it is easily drawn up or down using a sidewinder. You won't have to worry about multiple cords or accessories such as curtain tiebacks. Also, its design ensures that it is less likely to harbour dust, mites, dander or other allergens, which is a huge plus if anyone at home suffers from allergies.
The other advantage of using roller blinds lies in its easy operation and the fact that it is relatively low maintenance. For one, it is easily drawn up or down using a sidewinder. You won't have to worry about multiple cords or accessories such as curtain tiebacks. Also, its design ensures that it is less likely to harbour dust, mites, dander or other allergens, which is a huge plus if anyone at home suffers from allergies.
Additionally, it is easy to clean – wiping it down or vacuuming it regularly should do the trick. And, depending on the fabric that is used, you can opt to hand wash it on your own, which will save you the hassle and cost of having it professionally cleaned.
If you prefer a plush and more classic look, Roman blinds is another option you could consider installing in your home office. It is constructed from a piece of lined, flat fabric and, like roller blinds, covers your window entirely when it is not raised. When it is drawn up, however, Roman blinds fold into neat pleats.
Of all the options that have been mentioned, Roman blinds offer the greatest versatility when it comes to fabric selection. Some fabrics that are particularly suited for Roman blinds include cotton, linen, polyester, silk, and rayon. Therefore, it is entirely possible to go for a highly coordinated or matched look by using the same fabric as the upholstery in the room, for instance.
The freelancer's home office
Not all of us are fortunate enough to have spare rooms that could be remodelled as a home office. Some of us may simply have to make certain spaces such as a corner, recess, or even open areas double up as a home office. In some cases, people do not even require a home office. Influencers or streamers, for instance, only require a nice backdrop.
If that is the case, the best and cheaper recourse – as opposed to erecting a permanent wall – would be to create dividers using curtains. This gives you the flexibility of opening up the area and using it as another space when you are not working.
And pulling it off is simple enough – all you need are ceiling-mounted tracks or ceiling brackets to support a rod. Of the two, however, curtain tracks are more suited for the task as it can go around corners. You can also install a multitrack system if you wish to layer your curtains.
Alternatively, you could also hang curtains on a high tension wire or cable, which will cost a lot less but comes with several disadvantages. For example, it is likely that the curtains will sag in the middle. Your choice of fabrics will also be limited to those in the lightweight category. Plus, it does not look neat – it will be hard to get uniformed pleats and it may look like a haphazard, DIY effort.
When it comes to fabrics, however, you have a great variety to choose from – almost any kind can serve as room dividers. Nonetheless, there are a few things to bear in mind. If, for instance, the home office is located in a dark recess with no windows to provide natural lighting, sheer curtains will be the best choice. Popular fabrics for sheers include linen, cotton, lace, or silk.
If privacy is a concern, go for solid and medium weight fabrics. Apart from keeping you cocooned in the space, these fabrics do a lot more in terms of insulation from sound and other distractions. You can go for patterned or embroidered fabric to add texture and visual interest to your home office. Fabrics with a sheen such as satin or silk can also brighten a room.
If you still favour the clean, modern look of blinds, you will be pleased to know that they can act as dividers as well. Both roller blinds and vertical blinds can be ceiling mounted. But if you are looking for a jazzier and more trendy option, you will find it in Japanese blinds.
Composed of large, flat, and vertical panels that slide on a track to stack behind one another, Japanese blinds can be made using opaque, translucent or transparent fabrics. This opens up a lot of possibilities: You can control the amount of lighting in your home office with your choice of fabrics, for instance. And because you have the freedom to choose almost any fabric ranging from silk to linen, you will have the means to choose one that matches your budget and style.
All in all, there are many ways to set up a home office and to make it as comfortable and conducive for work as possible. Curtains and blinds are important components of the space because they can affect productivity by way of lighting and privacy control. Our surroundings – colours, looks, ambience – can play a huge role in affecting our mood. Darkened rooms can make us feel sleepier, for instance.
If you are in doubt about the options to go for, you could always visit a fabric specialist or showrooms such as Acacia Fabrics in Kuala Lumpur for a consultation. It does not hurt to check out the variety of fabrics that are available for your curtains or blinds. And who knows, you might even be inspired to give something completely new a go.
References:
Yuko, E. (2020, June 11). What happened when the office came home. Bloomberg Citylab.
Desmond, M. (2021, February 24). 5 tips for better home office lighting. The Spruce. 
Unknown. (Unknown). Blinds vs. shades. FIXR. 
Unknown. (2021, October 19. 14 different types of blinds for windows (extensive buying guide). Home Stratosphere. 
SFGate Contributor. (2021, October 18). How to divide a room using curtains. SFGate. 
If you are searching for the perfect curtain to express your personality at home, talk to our sales representatives in here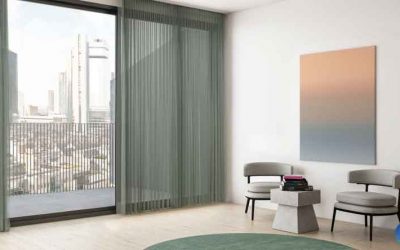 by KRISTEN PHANGIn the mid-18th century, most sheer curtain designs were plain white curtains that complimented thick, luxurious velvet curtains. The lightness and flow of their translucent white cloth gave rooms a graceful and elegant touch, completing a room's...