Curtain Styles and Designs to fall in love with in 2022
by KRISTEN PHANG
Minimalism and simplicity have dominated the interior design world for decades. Not only do modern designs provide the most functional and purposeful designs on the market, but they also create cosy environments that are easy on the eyes, easy to maintain and easy to rest in after a long day of work.
We especially love modern curtains, whose neutral colours, simple hanging styles and solid-over-sheer layering give our homes a humble sense of luxury.
However, after a couple of years, don't you think we should try something new?
This year, in 2022, many new curtain designs are taking our breath away. They're bursting with rich colours, bold patterns and beautiful tiebacks; some have a combination of all three! As a result, the interior design world is moving from simplicity to artistic, comforting curtain styles.
But what changed? What are these latest upcoming curtain design trends, which ones are fading out, and which ones are here to stay?
In this blog article, you will be introduced to latest curtain styles and designs to fall in love with in 2022 and how you can pull them off!
1. Eyelet Curtains are here to stay!
One curtain style that has stood the test of time is the eyelet curtains. 
When W.H Rodgers first introduced eyelet curtains in 1859, their folds' crisp and clean curves stood out among the complicated folds of traditional curtains. Homeowners quickly fell in love with its deep curtain-length folds that hung naturally from the exposed rod. 
Since then, we have hung these aesthetic curtains in our apartments, bungalows and terrace houses. Because eyelet curtains have a clean look and have changeable curtains, they can adapt to most interior styles, especially the sleek modern aesthetic. 
However, this curtain style remains popular because of its intelligent, simple structural design. To hang an eyelet curtain, all you need to do is weave the eyelet rings embedded into the cloth through the rod. After that, mount the rod on the wall. 
That's it! This intelligent design makes curtain maintenance extremely convenient. You don't need to fuss with hooks, mechanics or motors. In fact, you can hang your curtains within five minutes!
There are also a wide variety of eyelet curtain designs on the market. If you want to change up your curtain's style, you can change your eyelet curtains as quickly as a girl trying on different dresses for a fancy dinner party.
There are a few tips and tricks you can use to style with eyelet curtains, but since there are too many to discuss here, you read about them in detail on Acacia's lifestyle blog here: The Best Eyelet Curtain Tips For 2022
2. Get Creative with Multicoloured and multipatterned curtains!
Hanging prints and predesigned curtains is an easy way to add elaborate designs to your curtains without putting on additional embellishments. That's because all the designs are already woven or dyed into the fabric.
While it may seem cheap to buy predesigned curtains, there is no shame in making smart design choices, especially when you take the time to choose a beautiful set of curtains.
Besides, look at the new curtain designs for this year! You can't go wrong with these alluring colour palettes and bold patterns.
Inspired by the fullness and detail nature of traditional curtains and the simple and purposeful approach of modern styles, this new artistic approach experiments with colours and patterns. By combining different colour tones and patterns on a single cloth, they have found new ways to add depth, fluidity and dimension to the curtains.
These multicoloured, multipatterned curtains are the perfect statement curtains for our living rooms. Not only do these fabrics have a great Instagrammable aesthetic, but they also reflect our style and creativity, and they impress our guests.
Here are some of these fantastic designs you can try.
Ombre is a beautiful way to get a mix of beautiful colours tones in one fabric. Look at how those colours naturally flow and blend throughout the gradient!
You will only need two or three colours for your ombre curtains. Any more than that will not leave enough space for the gradient effect. As for colour choice, you can choose multiple tones of the same colour or a combination of vibrant colours.
But in general, if you want a flowing effect for your ombre curtains, you should put your lighter colours at the top and the darker shades at the bottom.
This rule is especially important for sheer curtains as sheers act like light filters. For example, sunlight passing through a blue curtain will create blue light. While the filtering is a cool effect, darker colours are more likely to clash with your room's colour scheme and obscure the room's natural lighting. Putting lighter shades at the top half of your curtain can help negate this issue.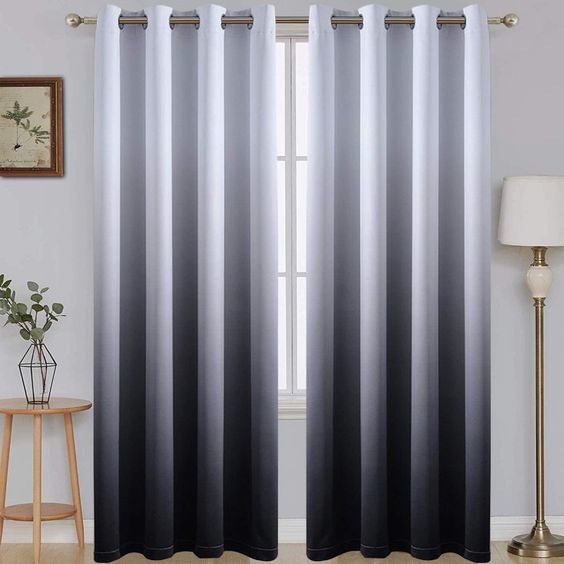 Multicoloured curtains are distinctly different from ombre curtains. Instead of blending the colours, the colours are separated by clear lines to create segments within the fabric, making the curtains look wider than it is.
For this style, you should try light and dark colour combinations. This will give your curtains an illusion of depth. Placing lighter colours on the outside makes your curtain more inviting, prompting people to look through the curtain or step through the doorway. Putting darker colours on the outside brings the view outside forward.
Partially Patterned curtains
There are many ways you can add patterns to your curtains! For example, you can add horizontal patterns to make your curtains look wider or vertical patterns to make them look longer. In addition, you can add all kinds of patterns to your curtains, such as geometric patterns, stripes, plants, ornament, embroidery and even graphical pictures!
This year, many people choose solid curtains with a horizontal geometric strip across the middle of their drapery. The strip also be replaced with lines, stripes, chevron or even wave patterns, as they all have distinct shapes that will match most modern styles.
Initially, most people prefer not to fully patterned curtains because they draw attention away from other design elements. Some patterns can also look visually 'busy', which makes you strain your eyes. But by adding patterns to only some parts of your curtains, you can add complex patterns to your curtains while letting your eyes rest.
A pattern strip can also be placed on the top or bottom of the curtain. You can also use vertical patterns to frame your curtain. Patterns on the outside look inviting, while patterns on the inside showcase anything between the curtain's fame.
You can even try using strips of vertical patterns to make a striped pattern!
There are, of course, many other predesigned curtains. So, take your time and create an album of curtain styles on Pinterest and Instagram. While not all designs match your aesthetic, exploring these different styles will help you find the ideal design for your curtains.
3. Cover your curtains with large geometric and nature-theme patterns!
While fully patterned curtains aren't as popular as solid neutral-coloured curtains or the rising partially patterned curtain, they are still a common choice among homeowners. Patterned curtains bring life and excitement to a cool modern interior. With the right patterns, you can add a fun and relaxed character to your room without clashing with the modern minimalist style or other design elements.
In general, you should choose curtains with big patterns. That's because small patterns are visually 'busy', which causes us to strain our eyes and tire them out. Large patterns, however, look exciting and allow our eyes to rest.
When it comes to pattern types, geometric patterns are one of the top pattern choices for modern interiors. Its neat lines and rhythmic patterns of geometric shapes give the room a fun character while maintaining its sleek look of contemporary styles. Stripped, chevron and plaid patterns can also give off a similar effect.
Leaf and flower patterns are also popular pattern choices because they introduce natural elements into the room. Nature-themed curtains also bring a comforting and calm tone into the room, allowing people to release the tension in their shoulders and slump on their couches.
Other pattern styles like ornamental and graphical are not as popular. However, if you choose a curtain that has a thin, translucent pattern layer, any pattern would work! That's because a translucent pattern can't be noticed at first glance, but guests will appreciate the small details once they take a closer look.
4. Hang rich, muted coloured curtains to give your room a pop of life!
Not everyone wants to put bold patterns or multiple colours on their curtains. Some people still prefer a humble minimalist style. Some rooms need simple designs like our home offices so that we can focus on our work and bedrooms for a good night's rest.
However, that doesn't mean you still can't change up your curtains for a fresh look!
Choosing rich, muted colours for your curtains will help maintain the minimalist aesthetic while adding a pop of colour to your home. It brings life to a modern environment with a limited colour palette without overwhelming or clashing with other design elements.
There are plenty of rich and muted colours you can choose from, such as earthy colours like oak brown and forest green, rustic palettes like clay red and olive green, and season-themed colour schemes like spring and autumn.
While neutral colours like off whites, greys and blacks are not as popular, they are still a classic curtain choice. Neutral colours are the perfect complementary colour for any style. They can enhance a curtain's design and make it luxurious when used as a supportive design element.
5. Get luxurious and practical with solid over sheer curtains – or sheer over
Solid over sheer layering has been a popular curtain arrangement for quite some time – and it still looks impressive.
This combination is a simple yet elegant way to get grand luxurious curtains in any setting, regardless of style. You can put it in a traditional living room, a modern sitting room and even your children's bedroom, but that gives a more homely effect rather than a grand appearance.
However, the solid and sheer combination remains popular today because they give homeowners a range of control over sunlight, noise, heat, wind and privacy. If you want to let in natural sunlight during the day without the intense heat, draw the sheer curtains and tie up the solid curtains. Want privacy at night? Draw the solid curtains.
We love beautiful and practical curtains.
More people have recently been hanging sheer curtains over solid curtains because it has the same functions as a solid over sheer and has much more design potential.
You can tie up your sheer curtains in the middle to create pillars of fabric, print an illustration on the sheer curtain to give it a level of depth, or add elaborate embroidery for a more classical look!
Trends are constantly changing, not just because of appearance but because of our lifestyles and external world factors. While we don't necessarily need to follow mainstream styles, they constantly challenge us to make new things and bring excitement to our lives.
If these curtain styles and designs interest you, try them out! Blossoming design trends can help you find your style and voice.
If you are searching for the perfect curtain to express your personality at home, talk to our sales representatives in here.